One of the things that are really considered when planning a wedding is the wedding dress .Apart from bridal shops; there are many other places a bride can get her gown from. One can also purchasing it online.Whichever your choice be it the modern ones or traditional ones there are things you should consider. It is very imperative for every bride to put these factors in mind before purchasing one.
Budget: It is a one day event and it is very imperative to follow the set budget to the letter.
a. Visit the local bridal shops and shop for a gown of your choice and one that is according to the set budget. Avoid impulse buying for it could make you mess the whole occasion.
b.Purchasing online is also a wise idea in case you lack one that fits your descriptions and price too.
c.It is a day to be won on a very special day although for only one day and the amount you plan to spend on it should be reasonable.
d.In case you visit bridal shops during the weekend, the probability is that you will find the shops so busy a factor that could result to price hikes unlike when you go shopping during weekdays.
Your figure and shape: It is a determining factor on what type of gown will look best on you.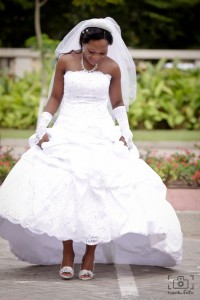 a. Not all gowns will look good on you or like another person. Your body shape will be the determining factor on how a gown looks on you.
b.In case you are not sure of your body shape, do a research and know your type of gown. Remember this is your big day and you want to look our best. There are numerous websites that offer reliable information and getting such information will be a great achievement for you.
c.When buying a wedding gown, keep in mind that you can either increase in size or decrease. An adjustable gown could be a good choice in case you experience such.
Choice of dress you make: It will reflect in many years to come on the photographs and videos.
a. Bring along a friend who will have you checked and assist you in making the right choice. A trust worthy friend will tell you frankly on how the gown looks on you.
b.Take your time and choose the right gown. It is therefore imperative to you to start shopping early enough as the last minute rush will make you mess up.
c.Try out three or four gowns of your choice before comparing the notes and choosing the best of them with consideration of several factors.
d.Ask a lot of questions about the gown you wish to buy but do not limit your choice to the size of the dress for it can be bought and adjusted to your size.
e.Remember you are wearing this dress for the whole day and so you need to feel comfortable .A comfortable dress will make you shine with confidence making the whole wedding glamorous.